Papertrail
About Download Screenshot Documentation License Contact
Papertrail is a Ballot Counting Software. It helps scanning and counting regular paper ballots as known from common election situations. It is Open Source Software, licensed via the GPLv3, to make the election process as dependable as possible, but speeding up the manual counting process a lot. Further, a free Operating System (e.g. Debian GNU/Linux) is highly recommended.
Papertrail currently has the following features:
Integration for ADF Scanners (Automatic Document Feed)
Colored Paper
Folded Paper
Variable number of candidates
Variable number of voting possibilities (yes / no / ...)
GUI (Qt/C++)
Command Line interface available for scripting / text terminals
Runs under Linux and other Unix like systems
Translated versions available for English and German
In the simplest case, the user just needs to click a GUI button to scan and evaluate a ballot stack in an election.

This software is available in the following forms:

After downloading the source tarball, just unpack it, build (compile) the executable and run it:

tar xf papertrail-X.Y.tar.gz
cd papertrail-X.Y
make
make install

pt-gui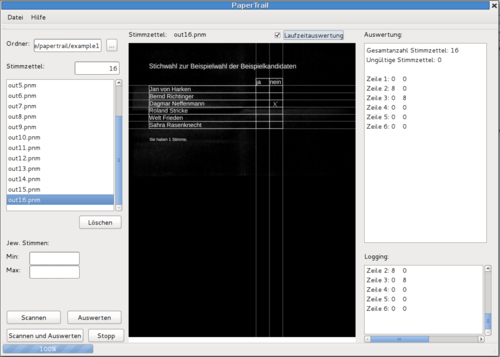 Manual (German) in different formats:
This program is Free Software and is covered by the GPL (GNU General Public License, Version 3).
Roland Stigge <stigge@antcom.de>